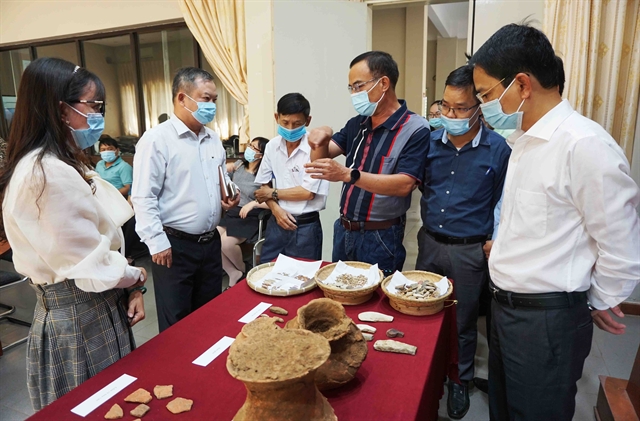 The scientists introduce the artefacts excavated at Thác Hai archaeological site in J'lơi Commune, Ea Súp District. — Photo courtesy of the museum
ĐẮK LẮK — An ancient workshop used to manufacture tools has been discovered at the archaeological site in J'lơi Commune in the central province of Đắk Lắk, the largest of its kind ever found in Việt Nam, announced Đắk Lắk Museum.
The excavation was jointly conducted by the National History Museum and Đắk Lắk Museum from March 28 to April 29 at Thác Hai archaeological site in J'lơi Commune, Ea Súp District.
Based on initial results, the archaeologists determined that this is a site of both residence and burial. Found at the site are thousands of specimens of tools and pottery items.
They also determined that the age of the Thác Hai archaeological site is around 3,000 years old. Its thick cultural layer, two metres deep, reveals that the ancient Vietnamese people used to live there for a long period of time.
The sophisticated artefacts unearthed at the site also show that the ancient inhabitants of the area were skilled craftspeople.
Specifically, via the study of the structure of a tomb, the archaeologists made the conclusion that its owner was the direct manufacturer of tools such as axes.
Burial items were also found in the tombs such as ceramic vases, pestles, stones and axes that were neatly arranged at the bottom of the tomb.
According to scientists, this is the first time that a large workshop with a sophisticated technical level has ever been discovered in Việt Nam or Southeast Asia.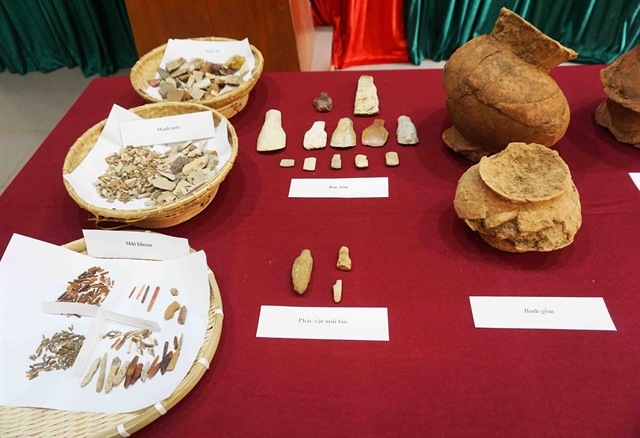 The excavated items are mostly intact and of high sophistication. — Photo courtesy of the museum
They also added that scientific records and the process of preserving artefacts and relics will be soon completed.
In Việt Nam, not many of these workshops have been uncovered. Only a few have been identified in several sites in Bắc Ninh Province, Hải Phòng City and Quảng Ninh Province.
However, the objects excavated at those sites are relatively large, simple and rough.
Meanwhile, the study of artefacts found at the Thác Hai archeological site found they were polished to perfection and used to make jewellery.
Đặng Gia Duẩn, deputy director of Đắk Lắk Provincial Department of Culture, Sports and Tourism, underlined the importance of Thác Hai as a newly discovered archaeological site with lots to study.
"Many sophisticated artefacts and intact ceramics found there could be restored to display and promote the historical and cultural values of the heritage site," he added. VNS