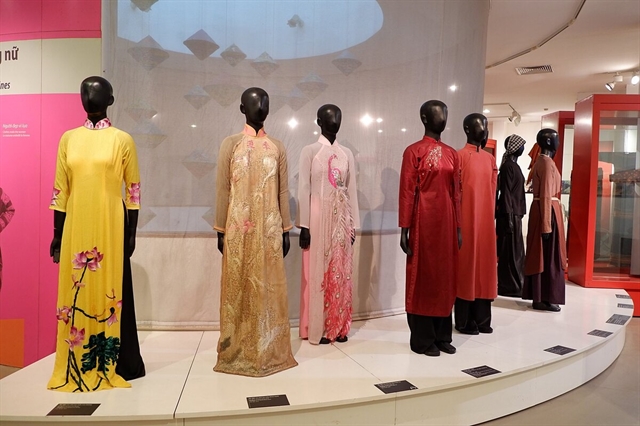 A special exhibition of áo dài (Vietnamese traditional dress) owned by outstanding women in politics, culture and arts is on display at the Áo Dài Museum in Long Thuận Street, Thủ Đức City. The event is part of the city's cultural activities to celebrate International Museum Day (May 18). (Photo courtesy of the organiser)
THỦ ĐỨC CITY — A special exhibition featuring the áo dài (Vietnamese traditional dress) has opened at the Áo Dài Museum in Thủ Đức City to celebrate International Museum Day (May 18).
It features a collection of 10 áo dài belonging to political, cultural and artistic stalwarts like Dr. Trịnh Thị Hoà, former director of the HCM City History Museum, and cultural researcher Lê Tú Cẩm, who have worked to improve the country's museums.
The women also encouraged young women in remote areas to study, develop careers and live more independently.
The museum's director, Huỳnh Ngọc Vân, said the exhibition promotes cultural activities to mark International Museum Day and the images of Vietnamese women through the áo dài.
The Áo Dài Museum, owned by veteran fashion designer Sĩ Hoàng of HCM City, opened in 2014 to share the history of the traditional long dress with foreign visitors and future generations and increase their awareness of traditional fashion.
The museum displays many áo dài designs dating back to the 17th and 18th centuries and their subsequent evolution.
It displays áo dài owned by theatre icons such as People's Artists Kim Cương and Bạch Tuyết, considered gurus of cải lương (reformed opera).
Others include garments owned by national heroine Nguyễn Thị Định, the first woman major general in the Vietnam People's Army, and former Vice State President Nguyễn Thị Bình.
Visitors can try making their own áo dài using paper, and souvenirs such as dolls in áo dài are available for sale.
The museum also has áo dài fashion shows and photo and painting exhibitions capturing Vietnamese culture and lifestyles.
The exhibition is open every day between 8am and 5pm until June 12.
The museum is at 206/19/30 Long Thuận Street.— VNS