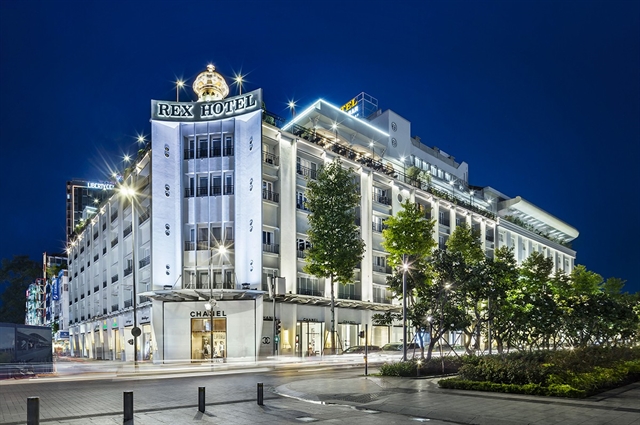 The Rex Hotel, built in 1927 on the corner of Nguyễn Huệ Boulevard and Lê Lợi Street, is one of four hotels in downtown HCM City included in a new preservation plan. File photo from rexhotelsaigon.com
HCM CITY — The HCM City People's Committee has submitted to the Prime Minister two preservation plans for the Rex, Kim Đô, Continental and Majestic hotels.
The Saigontourist Holding Company would be responsible for preserving the historical, architectural and artistic values of these hotels.
Nguyễn Thành Phong, chairman of the People's Committee, said of the two different preservation plans, the first plan would establish a company to manage the hotels with 100 per cent charter capital held by the State.
The other plan proposes that Saigontourist not be equitised as stated under Decision 26 issued on August 15, 2019 by the Prime Minister. The company is included on the list of State-owned enterprises to be equitised in the 2021-2025 period.
If Saigontourist were to be equitised, the State would hold 50-65 per cent of the charter capital.
Phong said the hotels should be under management of the Government for cultural as well as security reasons.
The city's preservation plans have received agreement from a number of experts and associations.
Khương Văn Mười, a member of the HCM City Architectures' Association, said: "All the hotels have beautiful architecture and connections with the city's history."
The Hotel Continental, built in 1880, was named after the Hôtel Continental in Paris. It is located on Đồng Khởi Street next to the Saigon Opera House.
The Majestic Saigon Hotel was built in 1925 in a French Colonial and classical French Riviera style. It is located on the corner of Đồng Khởi and Tôn Đức Thắng streets, opposite Saigon River and close to Bạch Đằng Wharf.
The Rex Hotel was built in 1927 on the corner of Nguyễn Huệ Boulevard and Lê Lợi Street, close to the headquarters of the municipal People's Committee.
The Kim Đô Hotel was built by the French 80 years ago and named Grand Hotel des Nation. Located on Nguyễn Huệ Pedestrian Street, the hotel's name was changed to Kim Đô in 1975.
Of these, the Rex, Majestic and Continental hotels have been preserved appropriately, but the Kim Đô Hotel was upgraded incorrectly compared to its original architecture.
Nguyễn Thị Khánh, chairwoman of the HCM City Tourism Association, said: "The association agrees with the city's preservation plans for the four hotels, which all contribute to historical and cultural values that can be shown to local and international visitors."
She said that a Sate-owned company should manage the hotels. "We have seen the results of a number of construction works and architectural works with historical and cultural value managed by private entities. Some of these have lost their cultural features and values of their original structure." VNS