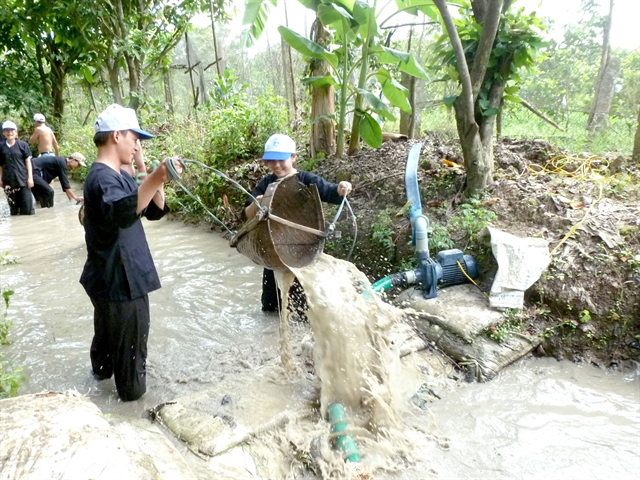 Visitors to rural districts enjoy catching fish. Photo sggp.org.vn
HCM CITY — The HCM City People's Committee is offering support to develop agrotourism and ecotourism activities in five of the city's outlying districts.
Activities in the districts Hóc Môn, Củ Chi, Bình Chánh, Nhà Bè and Cần Giờ are especially convenient for people who have restricted travel amid the COVID-19 pandemic.
Visitors can enjoy family boat trips on the Saigon River and learn how people raise salangane birds and then taste the soup made from Cần Giờ Salanganes' nests.
In Củ Chi District, they can learn how to be a rice farmer and see how traditional crafts and rice paper are made. The ''Một Thoáng Việt Nam (Vietnam at a Glimpse)'' tourist site in Củ Chi, for example, is a popular destination for domestic and foreign tourists.
Nguyễn Hải Yến, a visitor who lives in Tân Phú district, said that her daughter, instead of looking on the internet, can watch mulberry cultivation, silkworm rearing and weaving in person in rural districts.
More investment needed
Although agrotourism has become more popular, it has not met its potential because of a lack of funds to support locals and poor connections among tourism businesses.
For instance, a famous centuries-old knitting village in Xuân Thới Thượng commune in Hóc Môn District sells many items abroad, but does not attract many visitors.
As the pandemic continues, people prefer to visit destinations near their homes. The tourism industry, travel agencies and specialised organizations need to find new directions for agrotourism and ecotourism, Nguyễn Minh Mẫn, head of TST Tourist's communications and marketing department, said.
The city Department of Tourism has recently cooperated with travel agencies such as Saigontourist, Vietravel, Fiditour - Vietluxtour and TST Tourist to offer a variety of tours in Củ Chi District. These include visits to handicraft villages, hi-tech agricultural zones and the famous Củ Chi Tunnels.
The department has also launched two tours called "Flowers blooming on the land of white gold'' and ''Thiềng Liềng - a peaceful place''.
The first will visit oat farms and the Nghệ bats area conservation, enjoy crab-catching, and kayak in the sea mangrove forests in Cần Giờ.
On the ''Thiềng Liềng - a peaceful place'' tour, people will learn about salt making from Cần Giờ locals and participate in community tourism activities.
Visitors on the tour called ''Back to the village in the capital city'' will understand more about old communal houses in Củ Chi, and visit dairy farms and Koi fish garden houses.
The ecotourism trend, which has received more attention from both travellers and businesses in recent years, is a good sign for agrotourism. Tourists want to have new experiences and engage in conservation activities. Forms of sustainable tourism in eco-friendly destinations have the potential to expand in the future. VNS