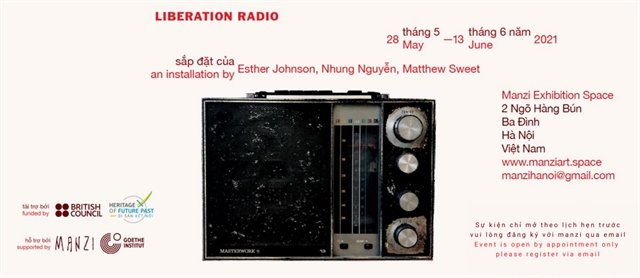 Manzi art space is set to host a gallery entitled 'Liberation Radio' from May 28 to June 13.
HÀ NỘI — A special art installation will be presented to the public from May 28 at Manzi Exhibition Space, 2 Hàng Bún Alley, Ba Đình District.
In 1968, a group of American military deserters went to the North Vietnamese mission in Stockholm with one object in mind – to join the army they had been drafted to fight against.
Instead, they were recruited for the propaganda war – to use pop music and political rhetoric to persuade other American servicemen to desert. Their recordings were transported from Sweden to Việt Nam by diplomatic bag and broadcast from transmitters on the rooftops of Hà Nội, and revolutionary bases in the countryside.
This installation work by artist and filmmaker Esther Johnson, sound artist Nhung Nguyễn, and historian Matthew Sweet revives that circuit of communication, five decades later. It also transmits something of the atmosphere of paranoia in the 1970s, when anxieties about propaganda, brainwashing and war produced films such as Alan J Pakula's The Parallax View (1974).
With contributions from some of the surviving American deserters, Swedish anti-war activists and Vietnamese journalists of the period, the voice of Liberation Radio speaks again.
Due to the fragility of the installation and the complexity of the set-up, the exhibition can only accommodate five people for each slot.
The event, which runs from June 13, 12pm-6pm, from Tuesday to Sunday, is open by appointment only. Please register via RSVP by emailing manzihanoi@gmail.com. VNS