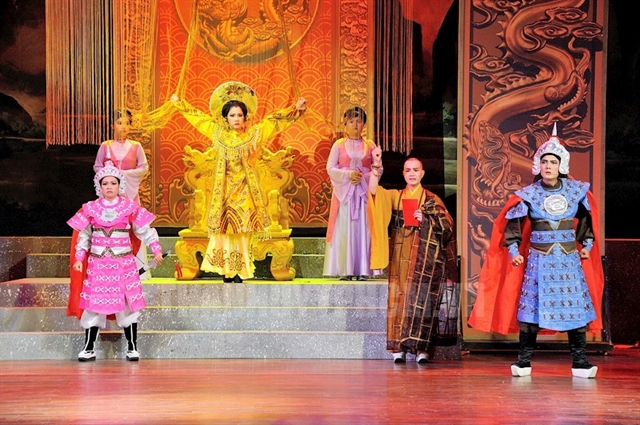 Famous plays in a southern style staged in the 1980s and 90s are part of a new drama programme produced by Sen Việt Stage and Huỳnh Long Cải Lương Theatre, two private theatres of HCM City. Photo courtesy of the producer
HCM CITY — A new drama programme about cải lương (reformed opera) and tuồng (classical drama) has been launched by two private theatres in HCM City.
The programme will restage a series of 60 cải lương and tuồng plays that were staged by Minh Tơ and Huỳnh Long troupes, the region's leading cải lương troupes, in the 1980s and 1990s.
The plays were written and directed by talented artists in the South who played a role in the country's theatre developments. The plays portray southern culture and lifestyles.
Actors from the Sen Việt Stage and Huỳnh Long Cải Lương Theatre are working to launch the programme.
The first show, Lưu Bị Cầu Hôn Giang Tả (The Country and the People), featuring a dramatic tuồng play was staged last weekend to audience acclaim. The play highlights patriotism. It features Meritorious Artist Tú Sương and young talents Hồng Quyên and Tú Quyên of Sen Việt Stage.
"Tuồng or hát bội is a traditional theatre of the central region that developed from a folk art to a royal art in the 17th century," said Meritorious Artist Sương, who has more than 20 years of experience in the theatre.
"My teachers, late People's Artist Thanh Tòng, veteran actresses Bạch Mai and Minh Huệ, worked hard to develop tuồng in southern style, a style that requires specific performance skills."
"Our actors today will follow in their footsteps to preserve the art," she said.
Young talents Hồng Quyên and Tú Quyên. Photo thanhuytphcm.vn
The next show will feature Tô Hiến Thành Xử Án (Tô Hiến Thành is Judged), a cải lương play first staged in 1985 and starring Thanh Sang and Hồng Nga.
The play tells historical events in the Lý Dynasty in 1140 and 1142.
After Tô Hiến Thành Xử Án, a series of famous plays featuring historical events and national heroes, will be restaged in new versions. The works highlight traditional culture and lifestyles.
Theatre stars Quế Trân, Trinh Trinh, Điền Trung and Lê Thanh Thảo will be featured.
"Our programme will offer quality plays with truly southern dramas," said Meritorious Artist and theatre director Lê Nguyên Đạt of Sen Việt Stage, who is also a founder of the programme.
"Through the programme, famous plays recognised as canons of southern theatre will be introduced."
According to Đạt, the programme will offer a new play every three months starting on May 15.
The shows will be staged at 8pm on Sunday at Kim Ngân Theatre on 144 Đinh Tiên Hoàng Street in Bình Thạnh District and HCM City Theatres Association on 5B Võ Văn Tần Street in District 3. Tickets are priced at VNĐ50,000 (US$2) to attract students and people with lower incomes. VNS