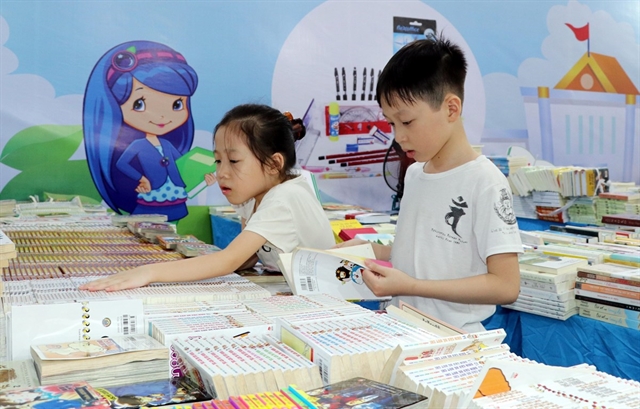 Children visit a book fair in the northern province of Nam Định. VNA/VNS Photo Nguyễn Lành
HÀ NỘI Bookworms in Việt Nam have been invited to participate in a virtual contest to introduce their favourite books that have made a positive impact on them.
The 2021 online book introduction contest, themed The Book I Love, is targeted at readers above six years old who are studying, working and living in Việt Nam.
The contestants will create videos to introduce and share their feelings about the books that have influenced them positively.
According to the Ministry of Culture, Sports and Tourism, the contest will receive entries from July 1 to 26.
The introductions will be presented in Vietnamese and might include English subtitles if possible.
Only books published in Việt Nam that have not violated the provisions of law can be presented.
The contents of the videos must suit Việt Nam's traditions and culture, not contain false information, not violate copyright or affect information security and other laws.
Each video should be at least five minutes and not exceed 10 minutes, and be saved in popular formats like mp4, avi, mpeg, mkv or klv.
Each contestant can submit one or more video to the contest. Videos that have entered the contest in the previous round will not be eligible in the next round.
Additionally, the videos must not have been uploaded to any website or entered into any other contest.
Entries should be sent to either sachvatritueviet.vtv@gmail.com or the Library Department, under the Ministry of Culture, Sports and Tourism, located on 51 Ngô Quyền Street, Hoàn Kiếm District, Hà Nội.
Entries can be sent from 10am on September 6 to 10am on September 20. The voting will be made public and serve as the basis for the organising committee to evaluate and rank the prizes.
Entries are scored through online voting for views, likes and shares on the YouTube channel Sách và Trí tuệ Việt (Vietnamese Books and Wisdom).
The results of the contest will be announced on the YouTube channel and the awarding ceremony is expected to be held in Hà Nội in November.
The organisers plan to award one Special prize, three First prizes, six Second prizes, 10 Third prizes, and 20 Consolation prizes for quality video clips.
In addition, the winners will be presented with books and other gifts.
According to its organising committee, the Online Book Introduction Contest 2021 will inspire reading passion among Vietnamese people. VNS