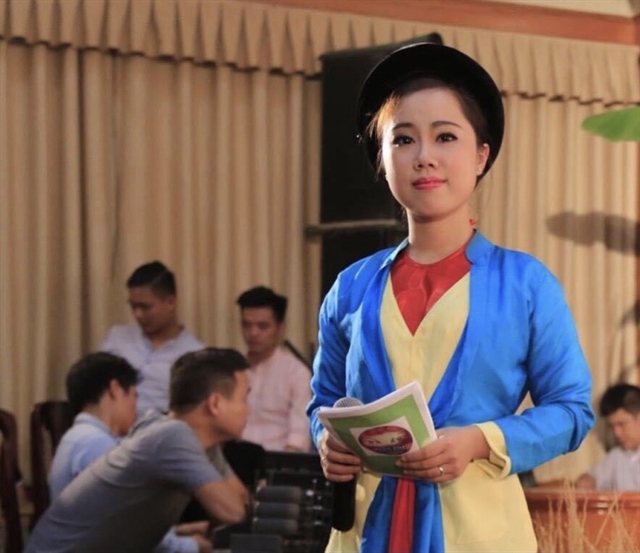 Founder of Chèo 48h organisation Đinh Thảo. — Photo thethaovanhoa.vn
Xẩm (blind busker singing) is a centuries-old singing style of Vietnamese people in the northern region. It has long been recognised as an important part of national cultural heritage.
A series of exhibitions, mini-concerts and audience-interactive activities titled Mắt Xẩm (Eyes of Xẩm) to celebrate the art was held by the Chèo 48h organisation from May 16 to 22.
Thể thao và Văn hóa (Sports & Culture) daily's reporter Công Bắc chats with Đinh Thảo, founder of Chèo 48h organisation
Could you introduce the project Mắt Xẩm?
We have had activities to preserve and develop xẩm since 2016 including learning xẩm singing, organising xẩm singing contests and xẩm performances.
These activities have drawn attention from the public. Through the activities, we share our love for xẩm with young people.
We are looking for opportunities to develop xẩm. We question that if there is an exchange between xẩm and multimedia creativity. The visual element is increasingly the focus of contemporary art.
That is why we do Mắt Xẩm with support from In Progress - a series of art and cultural events which have been carried out from 2018 to 2021.
Is Mắt Xẩm a combination of xẩm and contemporary art? What is the meaning of Mắt Xẩm and its message?
It is easy to see that xẩm as a livelihood for the blind. But we think that in the past xẩm singers had a different perspective because xẩm lyrics tell stories that were passed down from generation to generation.
From the perspective of the present, we cannot see xẩm with normal eyes but all senses.
We connect experts, artists and practitioners in different art genres to listen to their opinions about xẩm. It is a base for Mắt Xẩm to be carried out.
We held online talk shows focusing on combination xẩm with performing art, visual art and contemporary music.
Following will be many activities such as painting exhibitions, installation art and experimental music with xẩm. But these activities will be held in phase two of the project when the COVID-19 pandemic is well controlled.
In the context of the pandemic, crowds are not allowed and interactive works and activities will also be difficult.
However, with technological support, Mắt Xẩm has still been carried out flexibly. We see the pandemic as an underground war. The war can be long-lasting but with the awareness and creativity of young people, we believe in finding a reasonable solution for the development of traditional art and culture in this context.
You are the founder of Chèo 48h - an organisation to preserve and develop traditional art. How can traditional art and culture develop in modern life?
I have to stress that the point is approaching the public, especially young people. Factually, there are traditional artists and artisans who are whole-hearted with traditional art development. Each of them has their own mission.
Traditional art development has been interrupted due to a lack of historical documents.
On the other hand, at present, the way of communication and popularising to draw young people back to traditions is still lacking and limited, while there are too many waves of international and modern culture that are strongly promoted.
This makes the gap between traditional art with young people already far, even further.
Chèo 48h is like a bridge to bring the public, including young people, back to their roots. We hope they will find a connection with their time.
How long has Chèo 48h operated?
It is seven years since the organisation was founded in 2014. In the first years, we focused on learning traditional art genres such as chèo (traditional opera), chầu văn (spiritual singing) and xẩm and performances by learners.
Since 2019, we have experimented to write new lyrics for xẩm and produce music videos.
Last year, we co-hosted an event to revive chèo which is a new look about chèo. And this year, Mắt Xẩm debuts with new approaches.
Through these events, we hope to receive good ideas that are creative and can develop into many new projects in the future.
What is Chèo 48h's plan to bring traditional art closer to young people?
Besides continuing the activities that have been part of our organisation during the past years, we are planning for other projects towards more diverse and more trendy media platforms.
We hope more projects like Mắt Xẩm will be carried out.
It is not uncommon that some young people don't care about or love traditional art. Step by step we make the young people know about art, then care about it and finally love traditional art.
Of course, that process always requires patience, understanding and listening to the public. Moreover, we are trying to develop in the direction of a social enterprise. — VNS