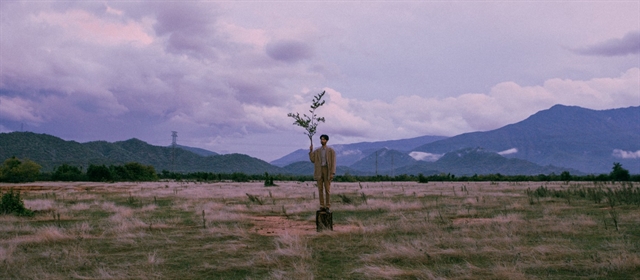 In his latest music video Hide and Seek, Đen Vâu plays a lone tree witnessing the entire growth process of a girl in front of a wild, desolate background. Photo courtesy of the artist
HÀ NỘI Vietnamese rapper Đen Vâu's latest hit, Trốn Tìm (Hide and Seek), is on the YouTube trending list for Viet Nam with more than 12 million views just after four days after release.
The music video, published on the singer's birthday on May 13, marks a new stage of development in his career and has won plaudits for its creativity.
Typical of Đen Vâu's musical style, Hide and Seek has meaningful lyrics, in-depth philosophy about love and life combined with a nostalgic and catchy melody.
It also features MTV, one of the most popular Vietnamese boy bands in the 1990s and was directed by Thành Đồng, a collaborator who has assisted the rapper with many of his projects.
Throughout Hide and Seek, Đen Vâu plays a lone tree witnessing the growth process of a girl in front of a metaphorical and wild background.
The idea for the song came to him after the singer spent time listening to hits of the past and reading the stories of previous generations.
"I suddenly thought that everyone's timeline is like a game that we still keep playing like we used to in our childhood. The differences are our playmates and the scale of the game; however, its essence remains the same," Đen Vâu wrote on his Facebook page.
"When we are a child, we play 'hide and seek' with our friends, hiding and finding each other behind trees and bushes. On growing up, we find jobs and the future and hide from sadness and unfavourable things. It is the only time that we can't either find or hide from it. We don't know what we have to hide from after all, but the way back to the old days is definitely the thing that everyone wants to seek".
The rapper said the music in Hide and Seek is composed of acoustic instruments that he selected and personally tested.
"I have never spent so much time in the studio for such a rap song. After dozens of hours a week in the studio, I finally felt confident because I didn't take it lightly," he said.
MTV said they were surprised to be invited to participate in this project, as they are at an age that is pretty distant from childhood with its innocence and naivety.
"It was difficult to describe the garden that Đen was envisioning. At the time of recording, we were not aware of the poetic images in the video such as the lone tree, the gentle sheep and the prairie," a representative of MTV said.
They said Đen Vâu's work makes him worthy of being one of the symbols of contemporary Vietnamese music.
"Đen Vâu expects the song to be a product that can connect multiple generations. MTV thinks that he has done it. The rhyme, melody, the experience of a poetic rapper -- all of which have led the audience through every level of emotion. Every word is extremely considered and carefully arranged."
Actress Ninh Dương Lan Ngọc said she enjoyed the feeling of watching Hide and Seek as a movie full of nostalgia, colour, melody and imbued with emotions.
Similarly, actress Diệu Nhi complimented Đen Vâu's creativity: "Every time he releases a song, I have to listen and read its lyrics countless times, not to memorise but to ponder and absorb. His lyrics are so beautiful and profound."
Rapper Đen Vâu, whose real name is Nguyễn Đức Cường, was born in the northern province of Quảng Ninh. He was the winner of the Bài Hát Việt (Vietnamese songs) award in 2011 with the song Cây Bàng (Terminalia catappa) and nominee for Best Impressive Singer at VTV Awards 2019 of Việt Nam Television.
Some other videos of the rapper that have entered the YouTube Việt Nam trending list include Hai Triệu Năm (Two Million Years), Một Triệu Like (A Million Likes), Cho Mình Em (For You Only), and Đi Về Nhà (Going Home). VNS