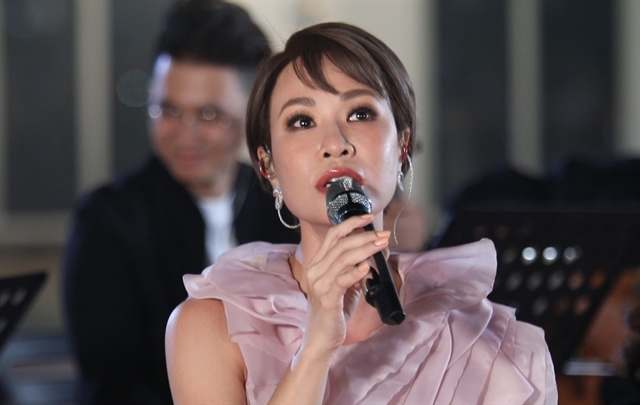 Singer Uyên Linh seen to perform the song 'Giữa Đại Lộ Đông Tây' in the show Xuân Hạ Thu Đông Rồi Lại Xuân (Spring, Summer, Autumn, Winter, and Spring again). Photo courtesy of Forest Studio
HÀ NỘI — Several famous spots in and around the central city of Đà Nẵng feature in Giữa Đại Lộ Đông Tây (On the East-West Boulevard), the latest music video of singer Uyên Linh, winner of Vietnam Idol 2010.
The video, featuring two lovers on a journey, was filmed on the Hải Vân Pass and Sơn Trà Pennisula and the Dragon Bridge in Đà Nẵng City.
In March, the singer debuted the song on Xuân Hạ Thu Đông Rồi Lại Xuân (Spring, Summer, Autumn, Winter, and Spring again), a reality show showcasing street performances of Vietnamese singers presented on the HCM City Television (HTV) YouTube channel. The video of a live performance the streets of HCM City streets has topped 7.7 million views.
Unlike the pop version presented in the reality show, the music video, which was shot at the beginning of last month, was remixed in a jazz style.
"I hope, like a summer rain, the song can bring a fresh breeze to music lovers, especially in the context of the current hectic and full-of-worries life," she said.
According to songwriter Hứa Kim Tuyền, he just wrote down the tunes that he hummed in a dream.
"In my dream, with my girlfriend sitting behind, I drove a motorbike in a spacious and empty boulevard. Feeling happy in that context, I was humming a melody. At that point, I woke up and I needed to get up to write down the tune that still echoed in my mind," he said.
"It took me only 15 minutes to complete the song."
The song was sent to Uyên Linh, who said she likes the melody immediately.
Although the singer planned to record the song last year, due to the outbreak of the COVID-19 pandemic, she said the time wasn't right to release the song.
Born in 1987, Uyên Linh graduated from the Academy of Foreign Affairs in 2010, the same year she won the third season of Vietnam Idol. Two years later, the singer released her debut album Giấc Mơ Tôi (My Dream), following by the singles Chờ Người Nơi Ấy (Still Waiting for Him) in the same year, and Chiếc Lá Mùa Đông (The Winter Leaves) in 2013.
Her other albums include Ước Sao Ta Chưa Gặp Nhau (I Wish We've Never Met) in 2014, and Portrait in 2017, which was nominated as Album of the Year at the Devotion Music Awards.
In 2018, she held her concert Chẳng Phải Tình Cờ (It Isn't by Chance).
So far, the singer has been nominated for four Devotion Awards. VNS