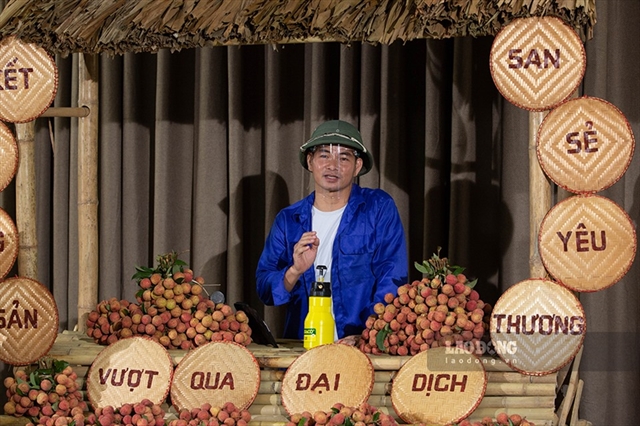 Actor Bắc introduces Bắc Giang lychees. Photo aodong.vn
HÀ NỘI — Tonnes of agricultural products like lychee, plum and wax gourd were sold out within an hour by actor Nguyễn Xuân Bắc via a programme livestreamed on the Beatvn Facebook page on Tuesday.
The programme, entitled 'Connecting Agricultural Products - Sharing Love - Joining Hands to Overcome the Pandemic', was initiated by the Central Committee of the Hồ Chí Minh Communist Youth Union in co-ordination with the Ministry of Agriculture and Rural Development, the Việt Nam Women's Union and the Việt Nam Farmers' Union.
Speaking at its opening ceremony, Ngô Văn Cương, Secretary of the Central Youth Union, said the programme aimed to support farmers that have been affected by the COVID-19 pandemic.
It is also expected to familiarise the farmers with new methods of online sales to adapt to the new context of the pandemic, in addition to creating a network of agents to connect and consume agricultural products nationwide.
The programme kicked off on Tuesday, featuring Nguyễn Xuân Bắc, the director of the Việt Nam Drama Theatre and an actor familiar to Vietnamese audience for starring in many comedies and films like Gặp Nhau Cuối Năm (Year-End Meet).
In plain blue clothes and wearing a sun helmet and a face shield, Bắc looked similar to a Vietnamese farmer and started to share the story about lychee, the fruit that is associated with his childhood and "crystallisation of the farmers' working spirit".
His livestreamed stories attracted up to 279,000 viewers and ended up with 5,000 orders for 85 tonnes of agricultural products, mostly for lychees from the pandemic hotspot Bắc Giang Province.
"This is a very meaningful programme. It is not a rescuing effort but to cherish and support the consumption of Việt Nam's agricultural products," the actor said.
Bắc added that he volunteered for the programme when it was launched by the Central Committee of the Hồ Chí Minh Communist Youth Union and has called for the participation of communities, especially youth union members, in assisting the farmers.
"Please cherish the value of Vietnamese agricultural products because they are the fruits of the farmers' sweat and efforts," he said.
Besides the kick-off programme, three other programmes were livestreamed at 8pm on June 8, 9 and 10 on the Beatvn Facebook page. Further details could be provided by contacting the sales support via hotline 1900 299216 or on the website nongsanviet.online.
The same night, actress Hà Thị Thu Hương, who starred in Phía Trước Là Bầu Trời (Ahead Is the Sky), also livestreamed to help sell Bắc Giang lychees, Bắc Kạn wax gourd and Bắc Hà plums. She secured more than 200 orders, some for hundreds of kilos.
Recently, singer Thái Thùy Linh also supported farmers in pandemic hotspot Bắc Giang Province by selling melons on her social media pages. About 500 kilos were sold within hours. VNS