Dế Mèn Award-winner Bình Ca (left) and head of jury panel Trần Đăng Khoa at the award ceremony in Hà Nội on June 1. Photos coutersy of Sports & Culture daily
HÀ NỘI The Dế Mèn (Cricket) Awards were given to five winners by the Vietnam News Agency's Thể Thao & Văn Hóa (Sports & Culture) daily on International Children's Day yesterday in Hà Nội.
The annual non-profit awards aim to encourage compositions, art performances and entertainment programmes by children or for children.
The winning artworks include the novel Đi Trốn (Adventure) by Bình Ca; the animation Khúc Gỗ Mục (Rotten Wood) by Việt Nam Animation Studio; a painting series about nature and life by Phó Vạn An; the comic Ly & Chũn by Đặng Quang Dũng, and the short story collection Khác Biệt Mới Tuyệt Làm Sao (Amazing Distinction) by Nguyễn Hoàng Vũ.
The Grand Prize was not given out this year as no entry met the criteria.
"Although there is no Grand Prize, the winning works are also meaningful," said renowned poet Trần Đăng Khoa, head of the judging panel.
"It can be said that the art created for children is quite good, but the top is not there. We want people to support the Dế Mèn Awards by reading and watching the winning works."
The youngest winner was HCM City-based Phó Vạn An. The 14-ear-old began painting when he was four and has completed more than 300 paintings.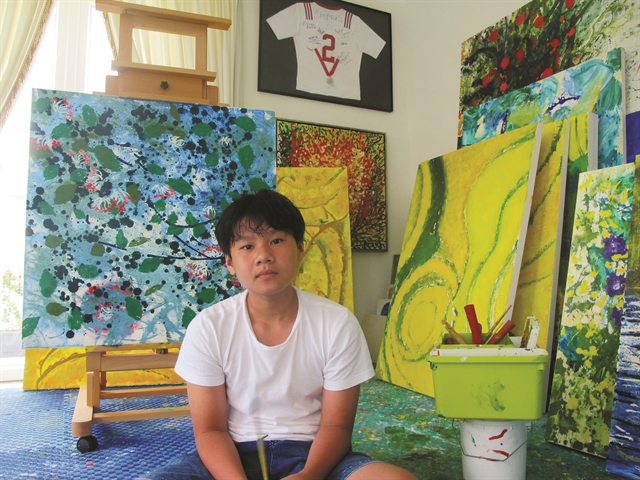 The youngest winner Phó Vạn An aged 14 of the 2nd edition of the Dế Mèn Awards.
He has had solo exhibitions in Việt Nam, Singapore and New York and many of his paintings were sold at these exhibitions.
He is unaffected by other painters and external influences because he doesn't have a mobile phone or a Facebook or Instagram account.
His paintings were made last year during social distancing caused by the COVID-19 pandemic. The paintings express freshness and purity which help people feel peaceful.
"It is my honour and I can't believe it," An said when he was announced to be a winner.
"The award will help me to have influence over other peers. It is something I never dreamed of. Of course, if I was alone I wouldn't be the winner today. I want to thank my teachers, parents, and siblings for helping me."
The judges, including chairman of Việt Nam Writers' Association Nguyễn Quang Thiều, popular artist Thành Chương and the daily's editor-in-chief Lê Xuân Thành, reviewed 16 works including books, comics, paintings, music and animation in the final round.
The Dế Mèn Awards were launched last year.
At the first edition in 2020, famed writer Nguyễn Nhật Ánh won the Grand Prize and four awards were given to other winners.
This year the organisation received some 120 entries, 20 more than in 2020. VNS