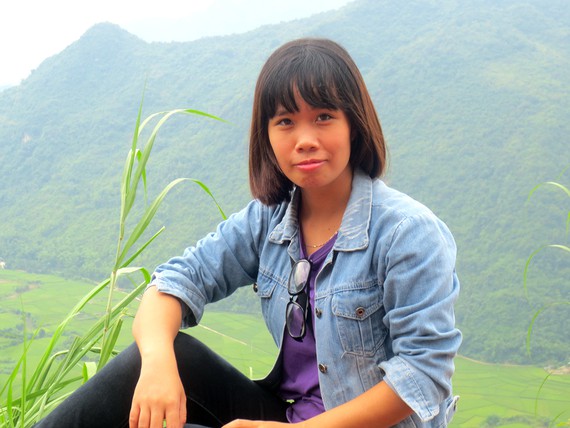 Writer Cao Nguyệt Nguyên. Photo courtesy of sggp.org.vn
A few years after becoming the youngest writer to win the short story award of Military Literature Magazine, Cao Nguyệt Nguyên became the youngest author to appear in a textbook. Recently, she shared her insights about writing for children.
Cao Nguyệt Nguyên is known for many short stories with deep characters. What encouraged you to step into the field of children's literature?
Writing for children is always an interesting and attractive topic for many people. It is an inner need as each of us always has a clear picture of a childhood world full of laughter. The question remains whether we would like to share it with other people and kids. Of course, for some people, that moment needs some special urge.
I decided to write for children since I found it to be the purest and lightest time of my soul. When I write, I see myself as a young girl, without any wrinkles compared to now.
Did your latest book on Kiều bring you any hardship as you have to play many characters with different personalities?
It was hard but more interesting, I would say. It was like a risky jump with loads of fun. I have put a lot of time and energy into this book. Transforming into a character is never easy. Even though there were 12 characters with 12 personalities, I always think it is a great experience and opportunity for the writer. It took me weeks to fall in love with one character and then when I switched to another, it took me a while to get out of the role. I believe there is no hurry when impersonating one character. Similar to how we get to know someone, we have to take time to understand them and listen to them. Those characters are like my special friends.
Telling the Tale of Kiều in your own style, you must be a "stubborn" writer?
I do not consider myself stubborn but I like to try new things and challenge myself. Based on the background material left by famous author Nguyễn Du, I would like to retell the Tale of Kiều via the eyes and language of the 9X generation. Youth is nothing but enthusiasm and creativity, so why not give it a try?
As the only 9X author present in the new 2nd grade textbook, could you please share some interesting insights behind producing this content?
I was six months pregnant when I received the invitation to write the content. I initially thought that writing for children must be easy. But no, it is really not that easy. Each word and sentence must be corrected properly while ensuring clarity and interest in the storyline. When I held the textbook in my hand, I breathed a sigh of relief.
The world of childhood is now heavily associated with digital technology. Is this a challenge for writers who write for children when they want to build a world of pure and innocent souls?
To be honest, telling effective stories about the countryside and mountains to children in the city is a challenge. Since many children do not have experiences with the bigger life, they might not be excited to read about them. That is always my concern when I pick up a pen. I believe if we want to build innocent souls, we need to catch up with their feelings and needs. The content must be relevant to their real life and step-by-step bring them closer to the world of innocence.
In your opinion, what factors do modern writers need to consider when writing for children?
Modern writers creating content for children need to write new things via fresh perspectives. I find many children's books to be overly mature and impose rigid values. Be a friend of the children, play with them to experience the world that they are really living in. – VNS