LAI CHÂU – About 100 paragliders will join the Putaleng Long Distance Paragliding Tournament 2021 as part of the Lai Châu Tourism-Culture set to take place in November in the northern province of Lai Châu.
Local authorities aim to advertise the province's tourism sector in the programme under the title 'Lai Châu – Magnificient in Landscape and Diverse in Cultural Identity'.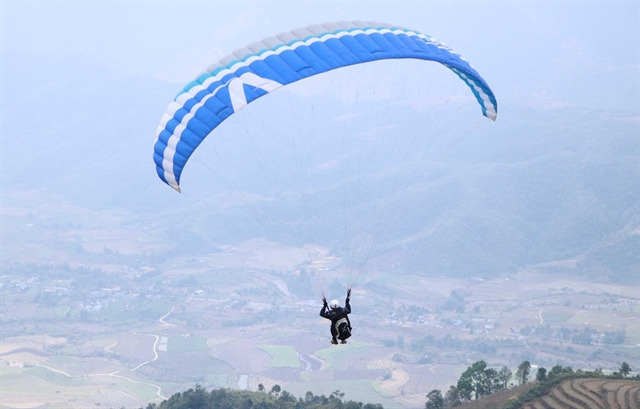 A paraglider fly over Putaleng Mountain in last year's tournament. VNA/VNS Photo Nguyễn Oanh
Various events will take place in Phong Thổ and Tam Đường districts during the event. The opening ceremony will take place in the People's Square, while a street festival, a long-distance bicycle race, an exhibition of orchids and an exhibition of agricultural products are other highlights.
The paragliding tournament will gather some 100 flyers over three days, who will take off at Sì Thầu Chải Village, 1,400m above sea level.
The village is located on Putaleng Mountain, in the range of Hoàng Liên Sơn, which has been dubbed as the second-highest roof in Indochina with a height of 3,049m, after Fansipan, which is located in the border of Lào Cai and Lai Châu provinces and is 3,143m above sea level.
The tournament is hosted by the local Department of Culture, Sports and Tourism and the Viet Wings – Yên Bái Club.
This will be the third time Lai Châu has hosted such a tournament.
The tournament organisers also aim to turn Lai Châu into a national destination for international and domestic paragliders to train and compete.
The programme will also host a traditional market, a night market at tourism destinations like Glass Bridge – Cloud Dragon Tourism Site, Ô Quý Hồ Tourism Site, Sì Thầu Chải Village, Lao Chải 1 Village, Thẳm Village, Vàng Pheo Village and Sin Suối Hồ Village. VNS