Lê Hương
It's 4am on a hot summer day. Some people are running on the deserted streets for their morning exercise. It slowly brightens as the sun rises. Today will be a very bright day amid the first heatwave of this summer.
In a small room on Bạch Đằng Street in downtown Hà Nội, the owner of Comida Ngon Florist Bùi Băng Giang and her staff are already busy preparing flowers for today's orders.
Giang (right) and her staff prepare for flower orders. Courtesy Photo of Bùi Băng Giang
The fragrance of various flowers overwhelms the bustling atmosphere of the room. Each employee is lost in their work preparing dozens of sets of flowers for shipping by 6am.
By 8am, they finish all the morning tasks. In the afternoon, Giang has more time for her "frozen" job – managing Asia Exotica Việt Nam tourism company, one of the most popular tourism firms in Việt Nam serving mostly Spanish-speaking customers from Spain, Portugal and South America.
She replies to emails from partners all over the world and receives future bookings.
That has been Giang's routine since last July when her company was effectively "frozen" due to the pandemic.
"My company was among the final in the field to cut down staff numbers and close representative offices due to COVID-19," Giang told Việt Nam News.
Giang said flowers bring her new energy and inspiration. Courtesy Photo of Bùi Băng Giang
The firm has reduced from more than 30 people in various offices throughout the country to only seven full time and two part-time staff in Hà Nội.
Giang said 2020 was a "black year" for most travel agencies and tourism companies in the country when the number of foreign arrivals to Việt Nam reduced 79 per cent against previous years and the number of domestic tourists reduced by 34 per cent. Some 95 per cent of international travel agencies stopped operations and 40-60 per cent of tourism workers lost their jobs or saw their working hours reduced.
"I'm among the luckiest ones who could find a new successful way for my company," she said. "My florist's trademark has not brought a much profit as I want but it has somewhat won the hearts of customers in the capital."
Giang said her cultural experience when working in tourism helped her open a new kind of flower service.
"I aim for high profile customers, who are well educated, have a special style in enjoying flowers and have the capability to afford my service," she said.
Giang's shop offers fresh flowers for various purposes like use at home on traditional festive events, on the first day or middle of the lunar month, or at pagodas.
"I would like to change customers' habit of buying fresh flowers at markets," she said. "Now, they can just sit at home, choose a wide range of flowers online and order."
Most of the flowers she supplies cannot easily found in normal markets and are more popular among traditional families, like sen (lotus), ngọc lan (magnolia alba), and hoàng lan (perfume tree).
In the busiest periods, she serves more than 130 orders for three consecutive days.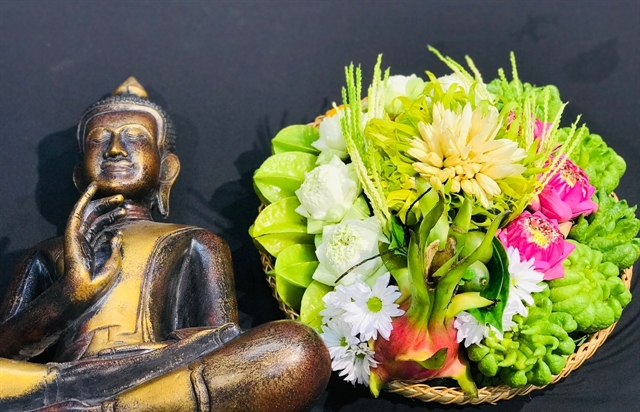 A flower and fruit basket offered by Giang's shop. Courtesy Photo of Bùi Băng Giang
Giang said she appreciated her colleagues in other tourism companies, who are hard-working, agile and can adapt quickly to new situations.
"None of them have just sat and waited," she said. "They have done something to survive and wait for the opportunity to come back."
"My customers overseas still book for future periods, even next year," she revealed. "People still want to travel as soon as they can, which means the demand for travelling is there. I think the golden day of Vietnamese tourism will return soon as we can control the pandemic."
Like Giang, Nguyễn Đức Trung, founder and director of Vietview Tourism Company based in Hà Nội, has been spending his energy on a new project: a recreational complex in his homeland in Cẩm Bình Commune, Cẩm Thủy District in the central province of Thanh Hóa.
Trung said he still managed the tourism company online while focusing on the new facility, which covers a total area of 2,400sq.m offering a swimming pool, recreational area for children, café and food court.
At the end of May 2020, two months after inauguration, the complex was opened to the public and brought revenue to the company.
"I drew a lesson from the previous period, I cut most of the staff and kept only two staff to survive till the situation gets brighter," he said.
Trung said he never puts all his eggs in one basket.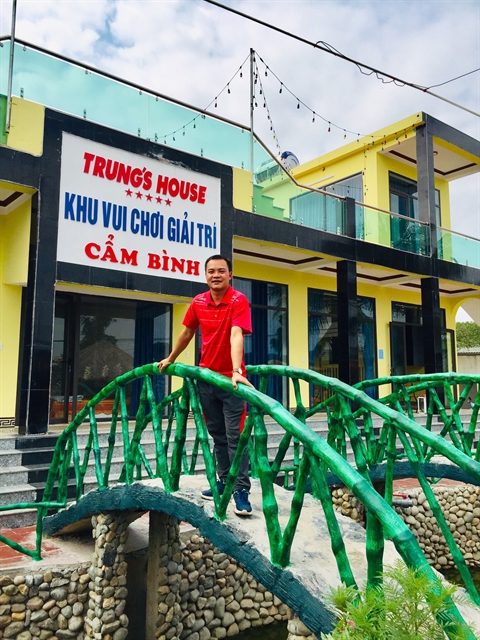 Trung has found a new interest in his new recreational centre back in his home town. Courtesy Photo of Nguyễn Đức Trung
Tourism is his passion and his first priority when things get better, he said.
During this period, Trung has spent lots of time researching new fields and new investment opportunities like green agriculture, the garment industry and farming.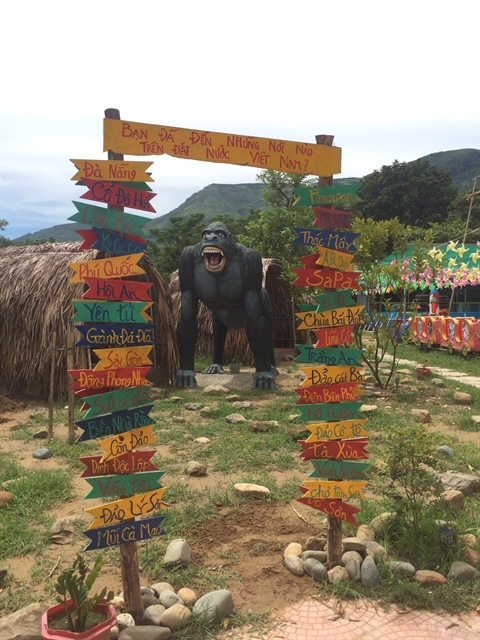 A corner of Trung's Cẩm Thủy Reacreational Complex. Courtesy Photo of Nguyễn Đức Trung
"When the pandemic waves are controlled, my company will host tours that customers postponed before," the Mường ethnicity man said.
He has run the company since 2015, which offers both inbound and outbound tours to Vietnamese customers. In the past, the company had 15 staff and a revenue of some VNĐ15-20 billion (US$651,000-868,000) each year.
Trần Văn Long, general director of Viet Media Travel Corporation based in HCM City, has worked to become an expert on producing masks in the past two years.
"Vietnamese customers think a mask with 3-4 layers of blue and white is a healthcare mask. In fact, it is not," he said.
"A mask should satisfy criteria: prevent the virus, prevent dust and not absorb blood. These three criteria can be met by most mask producers but the final criterion on breathability is not so easy. Our company is among very few mask producers that can produce safe masks, which people do not feel suffocated by wearing.
"When I told my staff that our tourism company will change to produce masks, all of them cried with sorrow," he recalled. "We cried to say goodbye to tourism. Then came the first days of trading, when we were cheated a lot."
Since then though, his Vietnamese-made masks with the trademark Ecom Med have become popular inside the country and have been exported to various countries including the US, Japan and South Korea.
Giang, Trung and Long are distinguished examples of agile tourism workers, who are still trying their best to survive and wait for brighter days to come.
They share the same hope that all their colleagues in tourism keep working, hold on to hope and stay ready for a glorious comeback. VNS
A view of Long's mask producing workshop. Courtesy Photo of Trần Văn Long